Login/Register
for Instant VIP Discounts on most gear! (Better Than Codes, and it's Free)
SendStation POCKETDOCK Line Out USB
Description

Reviews

Packages
Professional Quality Audio from iPod and iPhone. Hey DJs! Still plugging a 3.5mm cable into your iPod or iPad's headphone jack to get audio out to your sound system? Yeah, it works. But haven't you ever wondered why the sound levels are so much lower than your other sources? And if you try to compensate for it, it typically distorts to soon?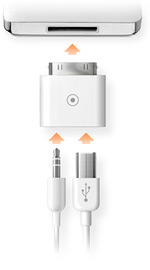 The PocketDock with Line Out allows you to tap directly into the Line Output of the iDevice, making it an ideal accessory for professional DJ's, HiFi enthusiasts, and anyone else who would like to take the iPod's great sound quality to its full potential anytime, anywhere, without interference and distortion from the headphone amplifier circuitry. Turn off the iPod EQ and you'll get a pure, unaltered audio signal from your iPod, iPad or iPhone.
Whether you are connecting to your DJ rig, to a powered speaker, or even to a home stereo system, it still meant either carrying the bulky Dock, or compromising on sound quality by using the iPod's headphone jack. The new PocketDock Line Out USB offers an industry-standard 3.5 mm (1/8") stereo jack (right next to the USB port) that connects directly to the iPod's line level circuitry just like Apple's Dock, but in a tiny, easy-to-carry package.
The PocketDock with Line Out and USB also lets you connect the iPod or iPhone's docking port to a standard USB cable. No need to carry the special docking cable the tiny PocketDock easily fits in your wallet, so you'll never miss a connection again.
When you're on the road with your iPod, listening to your favorite hits, you may unexpectedly want to connect to another Mac or PC. When you need it most, you'll probably find that you didn't bring the special iPod docking cable it's at home connected to your computer. Since you can find USB cables almost anywhere just unplug a printer or scanner the PocketDock Line Out USB lets you get connected, anytime, anyplace.
Trust the speakers you know
Do you fancy one of those trendy, tiny and not to forget costly iPod speakers? Well, don't let them fool you. When it comes to great sound, size really matters. That's an undeniable fact. The PocketDock Line Out USB is the most affordable solution to attach your iPod to your existing home stereo or car stereo, too with zero compromises on sound quality to be made.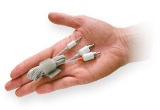 Includes high-style, quality cables
The PocketDock Line Out Pack includes two 6 ft. ultralight and ultra-compact white audio cables: One with 3.5 mm (1/8") stereo plugs on both ends, one with stereo RCA and 3.5 mm plugs. The 3.5 mm plugs are designed to also fit the iPhone's recessed headphone jack. Both cables together are slim enough to fit into the palm of your hand and come with detachable velcro straps for convenient storage and cable management. Their beautiful design is a perfect match for any iPod just like the PocketDock itself.
Don't leave home without it
What good is a PocketDock, if you don't have it at hand when you actually need it? Well, if there's one thing you always carry with you, it's probably your keys. That's why your PocketDock now comes with a free detachable keyring dock.
Tiny, light indispensable!
Mobile USB and Audio connections more convenient than ever with the PocketDock Line Out USB.

This PocketDock is compatible with the following Apple devices:
• iPad (ALL 30-pin generations)
• iPhone (ALL 30-pin generations)
• iPod touch (ALL 30-pin generations)
• 6G/7G iPod classic
• iPod nano (ALL 30-pin generations)
• 5G iPod video
• 4G iPod (click-wheel)
• iPod photo
• iPod mini

3G iPod models (touch-wheel) DO NOT support USB charging.
Additional Information
| | |
| --- | --- |
| UPC | N/A |
| SKU | POCKETDOCK |
| Manufacturer | Sendstation |
| Price | $29.95 |
| Product Condition | New - On Clearance |
| ASIN | N/A |
SendStation POCKETDOCK Line Out USB

Reviews